Wedding Dress Designer By Maria
Many of you have seen Monique Lhuillier's wedding dress designs in issues of Modern Bride, Brides, Bridal Guide, Wedding Dresses, and Martha Stewart. And if you are not in the market for a wedding dress, you may have also seen her dresses on the popular television shows Melrose Place in Fall of 1998 and Spring 1999 or on Weddings of a Lifetime in the Fall of 1998.
Monique was born in the southern Philippine city of Cebu in 1971 and is of French and Spanish descent. As a child, Monique played in her mother's dress shop and developed a love of clothing and fashion in the process. After graduating from the Fashion Institute of Design and Merchandising in Los Angeles, California, she decided to focus on bridal garment design and manufacturing. "When growing up, I always like evening gowns and wedding dresses. Growing up in the Philippines, weddings are such a big deal. Big weddings; with 8 bridesmaids! So in school, I zeroed in on wedding dresses." says Monique. "It wasn't until my own wedding that I found I had a good time and it was my true love. I had been designing gowns for my sister's in-law. It was always there, but I noticed it more after I got married."
After her own wedding, Monique realized that she liked the idea of putting a wedding together. Even though she had purchased her own wedding dress, she designed the bridesmaid dresses and the mother's dresses. She also realized that she could do a better job of designing wedding gowns. Monique worked out of her home on what was at first a hobby. Her husband, Tom Bugbee, was very supportive of her and told her to "Do what you love." After 10 months, orders started coming in faster and Tom left his job in order to assist Monique in her rapidly growing business. Monique credits Tom with the successful growth of their company, "Without him, I would still be small. I started with 3 seamstresses and we have 18 seamstresses now." Monique also says that by her husband using his business knowledge for her it allows her to separate the business side from the creative side. "I don't look at the business side. I stay with the creative part."
Monique designs her dresses with herself in mind. "If I won't wear it, no one else would either. I make several samples and try them on. I'm quite petite, so I always look to see if it will work for my size and on different body types." Monique confesses that her shopaholic tendencies also help her, "I'm a total shopaholic! But it's a learning process when you shop. I get to see what's on the market and see how our product stands out and the price points." By staying in close touch with her designs, it also assists her in the customer wants and needs. Usually her favorite designs for a season end up being the best sellers.
Monique Lhuillier's attention to detail is very evident in her dresses. She likes her silhouettes very simple to show off the body. However, the attention to the beading, which is all hand done, the tiny bows, etc., all make her dresses very detailed, yet delicate.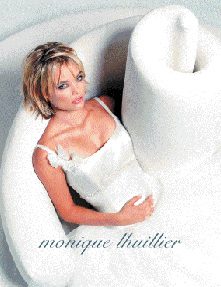 It was this attention to detail and her wonderful designs that got her dresses on Melrose Place in 1998 and 1999. When Josie Bissett's character, Jane, was married on Melrose Place, the stylist went to local bridal stores in search of a gown. All of the gowns the stylist was interested in were Monique Lhuillier dresses. The gown that was used is her "Kate" gown. "It was so exhilarating! I called everyone and told them to watch Melrose Place!" says Monique. The following Spring of 1999, she was asked to dress Kelly Rutherford who played Megan for her wedding on Melrose Place. Since then, Monique's dresses have been used in a 98 Degrees video and she recently fitted Meg Ryan for a Mitsubishi advertisement. Dressing celebrities and television shows do have its drawbacks though. "It was so exciting, but I found I was being overly critical of my gowns. 'This could have been better, or I could have made that fit better'. I wanted to be Miss Director!" she jokes.
While dressing celebrities is fun and definitely exciting for Monique, she continues to do trunk shows at the boutiques that carry her line so that she can stay in touch with the women who choose and wear her gowns on their one special day. "I do about 20 trunk shows a year. I think it's wonderful that they take me in! I get to meet the brides, the mothers and the grandmothers. It's so wonderful! I love to talk and sometimes keep the stores open longer than I should! It also gives me feedback on the dresses on how they fit, feel and how I can improve them." The excitement that Monique feels for her gowns and the women who buy them is evident when speaking with her. "I like helping the bride choose a gown. I go to trunk shoes in all areas; Chicago, New York, Oklahoma, Colorado, Texas and others. I go to all the stores that carry my dresses at least once a year." Besides meeting the bride and the family members, it also assists the salons. "I get to know the girls in the salons and let them know what I was thinking when I designed a dress." says Monique.
Having this close interaction with the bride and the salons allows Monique to focus on the customer and her needs and wants. "I had one customer through a store who was off my size chart. She wore a size 28 and she was having a hard time finding a dress since lots of manufacturers told her they didn't make that size. She found a dress of mine that she liked and I met with her and we made the gown for her. It gave us both such a good feeling. I was happy that we could work together for her wedding." While this may not be the average story, she does go the extra mile for her customers.
Monique recommends that a bride begin shopping for a gown 6 months before the wedding. "It takes four months for the manufacturer to deliver the gown, otherwise you get into rush charges." explains Monique. She also recommends looking through bridal gown magazines for ideas, but insists that a bride really needs to go into a salon to look at gowns and try them on for a better idea on fit and what will look good on a specific body type. Monique recommends A-line dresses for varying body types "A-line dresses are very flattering on. They lengthen the leg on a smaller person and hide the hips on someone who is conscious of that area. Don't rule out full skirts and a fitted bodice either." She also tells brides that they should show more skin on top so that the dress doesn't overpower her. "I hardly ever design a dress with sleeves so it doesn't become frumpy. The sleeves on my dresses are mesh and very sheer. And with that type of fabric, it is very youthful and stylish. It's for the younger and more modern girl with her own sense of style. I want the gowns to remain simple to reflect the style of the bride." says Monique.
Even though Monique's dresses are simple, they are still very feminine. This is due to the beading; which is hand done, and the embroidery on many of her dresses. "The beading is very dainty and feminine, not heavy. It adds texture to the gown." says Monique. "There is also beading under the bustline because it frames the bust and it improves the fit."
Currently, Monique designs approximately 15 new dresses a season. She generally starts with 20 dress designs. Then they make the samples and eliminate the ones that don't live up to Monique's standards. "Sometimes we only make 12 dresses for a season. It may look good on paper, but once it's actually made, it might not look the way I want." She also only uses her favorite 10 dresses to appear in advertisements. "When we do the shoots, I only pick my 10 favorite. Many girls don't want their dress advertised. So when they go into a salon and they see other designs, it's a surprise for them." adds Monique. "The advertising is to entice them on the line. But I want them to go into the salon to see the rest of collection."
For the differing seasons, Monique does add different fabrics. She uses thicker fabrics for fall but doesn't think there should be rules on what to wear. "Wear what looks best on you." she says. "I advise brides to go with what looks best on and to them. There are lots of cross over fabrics."
She also uses color in wedding dresses to add a different and fresh look to wedding gowns besides the traditional white or ivory shades. "I have dresses that are very pale silver, platinum and gold. The color looks very fresh and the very pale shades just add a different dimension. I don't think it's for everybody to pull off, but I am seeing more of it now than before." explains Monique.
While Monique currently designs dresses and not headpieces, she does recommend them with her dresses. "I recommend a simple hairstyle and veil. If your gown is simple you can wear an elaborate headpiece, but otherwise a nice long veil looks clean and sophisticated and doesn't take away from the face." She also points out that if you don't see a veil or headpiece you want, ask the salon if they have someone who could custom make one to fit your needs.
With all the wedding gowns that Monique designs, I was curious as to what she would design for herself if she were getting married now. "I would have a very fitted bodice with very small and feminine straps to show off my shoulder line. I would also have a full, pleated skirt. Pleats still look full without all the bulk." explains Monique.
For those of us not in the market for a wedding dress, we will soon be able to purchase evening gowns by Monique Lhuillier. She is planning on launching an evening gown line this fall. "I love to design bridal gowns and that is my first love, but I feel I have time to design evening wear too. I know about the cuts of a gown and the next step is to do color." Monique jokingly told me she has already come up with 5 designs that are in her closet. "They are tried and tested already. My husband keeps asking me if I'm designing for others or myself! I tell him I have to test the designs first!"
Monique stresses that if you don't see her gowns in a store, don't order it from there even if you are told they can get it for you. "A lot of bridal shops ask for ½ the cost of the dress as a deposit and many times you cannot get it back." says Monique. She recommends you also be wary of anyone that says they can get the dress for you at a big discount. You run the risk of not getting the dress at all or it may be a replica. A list of authorized dealers is on the Monique Lhuillier website.
Monique Lhuillier was a joy to interview. Talking with her was like talking and laughing with an old friend. During the course of the interview, we chatted about so many things that were off the subject of wedding gowns! I kept her on the phone for an extended period of time talking about family and our respective little dogs! I thoroughly enjoyed my time on the phone with Monique and after viewing her designs, am quite impressed with the elegance, grace, and beauty of her dresses. I'd like to extend a big thank you to Monique and her husband Tom. I'd also like to thank Tom and Erin for coordinating our schedules, I know that wasn't easy! And I look forward to viewing Monique's future designs.